Voting for the NCHA Vice President Election will run from April 24 through May 31, 2023.
Please consider Barnwell Ramsey for the next Vice President of the National Cutting Horse Association.
Why Choose Barnwell Ramsey?
Breeders, owners and competitors sometimes have very different goals and look at things from very different perspectives. I feel I possess the ability to examine issues that the Executive Committee will face from the perspective of all three of those groups while still maintaining and preserving our western heritage.
Keeping NCHA on the continued path toward excellence is one of my goals. I'm looking to continue to follow our mission statement whereby NCHA strives to give cutters a level playing field, but also to expand that statement with a focus on our members.
The NCHA is a strong organization, well positioned on a road that keeps our western heritage alive. That road to success is always under construction and it runs through its members. I want to continue building that road.
Who Is Barnwell Ramsey?
An NCHA member for over 20 years, Ramsey has been involved in multiple aspects of the industry from showing at both the weekend and limited age events across the country, and breeding and owning cutting horses. He has served on both the Finance and Amateur committees for six years, serving as chairman of the Amateur committee for three and vice chairman for two. Additionally, Ramsey is an active director from North Carolina and has served in this role for six years.
Ramsey states "I have been a member of NCHA since 2002 – over 20 years. During that time, I have had the pleasure of gaining extensive experience with the NCHA governance structure and processes. I have represented North Carolina as a director for the past six years and have served as a member of both the Finance and Amateur committees for the past six years, with 3-year service as Chair and 2-year service as Vice-Chair on the latter."
"I have actively shown in both Weekend and Limited Age events in both the Non-Pro and Amateur classes, and I have shown at all three of the NCHA Triple Crown events. I am an active breeder of between five and ten mares a year and own horses that are being trained and shown in Open competition."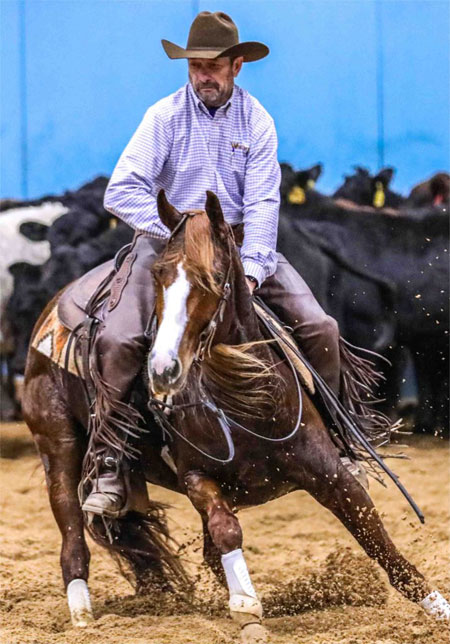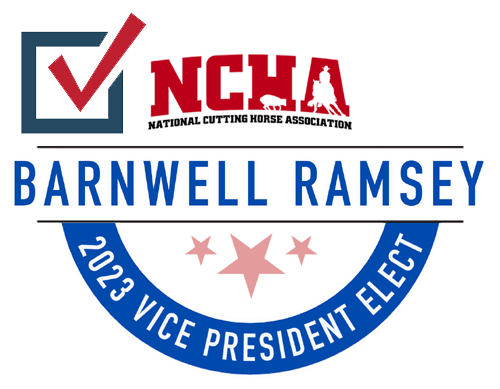 How long have you been a member of the NCHA?
I have been a member of the NCHA for more than 20 years, My membership dates back to 2002.
What success do you have as a competitor, owner, breeder, trainer and/or show producer?
I've earned a little over $350,000. Horses I've owned and bred have earned a little over a Million dollars, and I currently own horses with earnings of approximately ½ million. I breed between 5 and 10 mares a year and usually start them all with a trainer. After that, it is up to them. I've never trained a cutter, but must be a pretty good trainer since I can ride a horse once and change what it has taken my trainer years to get.
What volunteer positions have you held in the NCHA or affiliate clubs nationally, regionally, and/or locally:
I am currently and have been a director for North Carolina for the past 6 years and it appears this will continue. I currently serve on the finance committee and have for the last 6 years and am currently the vice Chairman for the Amateur committee where I have served for 6 years, (three as chairman and 2 as vice-chairman)
Tell us about your personal history/resume:
I graduated from Clemson University and went to work in Indiana for Bristol Myers for approximately 10 years. For the last 35 years, as Baxter Black said, "I have been self-unemployed". My partners and I have started several successful companies which were sold and continue to prosper. One of these was Microban Products Company which you see advertised everyday as Microban 24. I presently work for Innovasource, another company we started and recently sold to Energizer Corporation. I never expected to work for a Pink Bunny!
I met my wife at Clemson and have been married to her for 44 years; we have two daughters, who each, in turn, have a son and daughter.
Why do you want to lead the Association?
From the above, you can see that I have been significantly involved over the last 6 years and know it is time to do more. This could have been the year I relaxed from committee work, but why do that when I think I have more to give back? The NCHA has been a vital part of my life over the last many years, and it makes sense for me to not only learn more about the in-depth details, but to use the skills I have acquired over the last 45 years to help grow the organization.
What qualifications do you have to serve in the Vice President capacity? What skill set can you bring to the Executive Committee and NCHA?
I have started businesses and have run businesses from every aspect: Operations, sales, marketing, and production. At times we had more than just one business we were tending to. I have watched the NCHA grow strong and have knowledge from serving on the Finance committee as to how this was accomplished.
I have led companies with just a few employees to ones that have had hundreds. The skill set learned over the years is not one that is easy to describe, but it is one that has continually worked, both financially and in terms of growth.
My biggest qualification is the ability to learn. I did not graduate from Clemson knowing how to build and run companies, especially with each company being unique, but we found the way and not once during the past 35 years did an employee miss a payroll or a stockholder lose an investment.
For more information please contact Barnwell
Email: bramsey@wolfdenfarm.com Phone: 704-584-0703
Follow us on Facebook