2013 Augusta Futurity finalist 50,000 amateur
2013 TUNICA FUTURITY & CLASSIC
Sanjo Play and Barnwell Ramsey
4 Year Old Unlimited Amateur- 4th
5/6 50K Unlimited Amateur Finalist
Classic Amateur Finalist for 2012 Summer Spectacular
2011 WESTERN SPORTS PRODUCTION CUTTING FUTURITY, in SULPHUR SPRINGS, TEXAS Winner in the Derby Open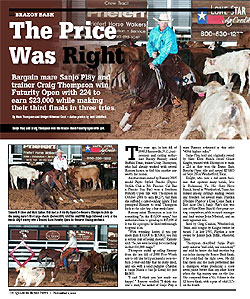 Sanjo Play in the Nov 1, 2010 issue of Quarter Horse News.
Click on article to read.
Winner of the 2010 Brazos Bash Open Futurity with Craig Thompson.