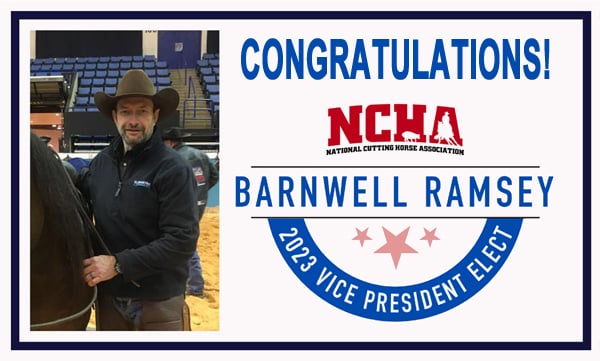 I am proud to say that I am NCHA's vice-president elect! Thank you to those who voted for me, for those who took the time to talk and listen to me. I enjoyed every minute of the "campaign trail," and I look forward to working together with you all over the next three years!
---
Welcome
The primary goal of Wolf Den Farm has been to raise and offer good quality quarter horses for sale based on solid foundation stock. The cattle farming activity revolves around the need for cattle to effectively train young cow horses and to maintain and offer show horses for sale that are involved in the cutting, roping, working cow horse, reining, sorting, and team penning events.
We have a good selection of cutting horses for sale as well as just good all around cow horses for sale. We present an excellent opportunity for you find young horses at all ages and skill levels and training for you to enjoy in various equine activities.
The two stallions that form our breeding program are Playstars and Charlies Tale. Playstars is the quarter horse son of legendary Playdox, providing colts with a solid foundation bloodline going back to Freckles Playboy and Bob Acre Doc. He not only has classic conformation but is providing his get with athleticism as well as good looks. Charlies Tale is the thoroughbred son of Tale of the Cat, a proven grade 1 sire. He provides beauty, athleticism and speed to all of his foals. His first foals crossed on our quarter horse mares are heading to the track and barrel racing this fall.
Our proven mare band includes daughters of Dual Pep, Bet Hesa Cat, Pepto Stylish Oak, Gallo Del Cielo (Rooster), One time Pepto, Smooth as a Cat, Playdox, Vaca Rey and Chula Dual
More and more young horses are excelling in the show pen as well as being exceptional all around equine athletes.
Here are some great examples:
Reyzurbetsonthiscat
2019 Kit Kat Super Stakes Cutting Horse Competition: Reyzurbetsonthiscat – 5/6 year old open finals – Score: 216 (place 15/16)
2016 NCHA Futurity Amateur Champion
Sanjo Playn Jacks
2019 Kit Kat Super Stakes Cutting Horse Competition: Sanjo Playn Jacks – 5/6 yr old amateur 1st go – Score: 216
Sanjo Playn Jacks
2017 WTX Finals Champions Sanjo Playn Jacks and Craig Thompson
Watch More Videos Here...

---
Reyzn Checks
Top 10 amateur horse of the year for 2019
---
Sanjo Playn Jacks
2017 West Texas Futurity Open Champion
---
Reyzurbetsonthiscat has won the Classic open at "the Ike" with Craig Thompson aboard. Bet Sheza Marka was also a finalist in the Classic Open and won the Classic Novice Open.
CONGRATULATIONS to Barnwell Ramsey on marking a 222 for a 4.5-point win in the Rios of Mercedes Amateur finals Tuesday at the Jerry's Chevrolet NCHA Futurity presented by Great American Insurance. He rode Reyzurbetsonthiscat, a Bet Hesa Cat gelding bred by Linda Holsey. The gelding is out of Ariel Rey, a mare Kathy Daughn rode to win the West Texas Futurity, and an earner of $99,000. Ariel Rey's babies include Melodys Pepto ($135,000) and Jay Moss Cougar ($120,000).

Ramsey has been a finalist seven times at the Super Stakes and NCHA Summer Spectacular, but this was his first NCHA Futurity finals. He's also a semi-finalist in Wednesday's Unlimited Amateur.
Click for more news!